Planning a great Christmas email campaign is crucial to your shop's holiday success. Although social media marketing might seem like the trendy thing to do at the moment (and it is worth investing in if you do it right), email marketing campaigns are inexpensive and can actually be very effective despite seeming "old-fashioned". Today, let's look at some strategies and examples for running a successful Christmas email campaign.
1. Timing
Timing is always a tricky thing in life, isn't it? Email marketing is definitely no exception, especially when it comes to Christmas sales. With businesses trying to stay one step ahead of the competition during the holiday season, it seems that Black Friday will be a thing of the past soon (or at least not as relevant as in previous years). As Black Friday sales morph into "Countdown to Black Friday" sales and the "November sales season", these holiday marketing campaigns will naturally start earlier and earlier every year as well.
This is where you have to be careful. If you're a B2B business, it might very well make sense to begin your marketing campaigns in early October, as your consumers will need to prepare their own campaigns for the end users. However, if you're a B2C company and you start sending your Christmas emails out too early, you run the risk of Christmas banner blindness. Your messages might get ignored or, even worse, you might irritate your customers.
According to Deloitte's 2017 Holiday Survey, a whopping 54% of holiday shopping is completed in December or later. 26% of Christmas shopping is finished in late November. In other words, only 20% of Christmas shopping is actually completed before Black Friday/Thanksgiving.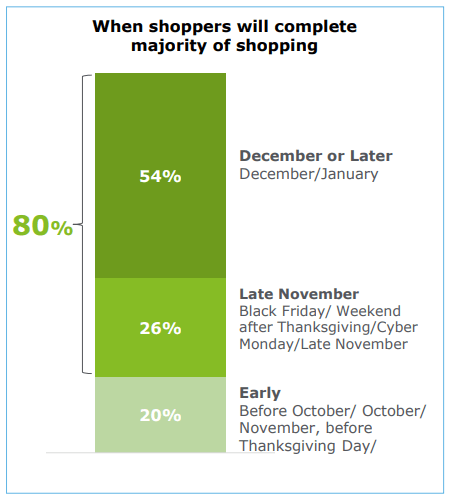 So, optimizing this will mean timing your first emails a few weeks before your sale – which will most likely mean sending out those emails in the first or second week of November. Again, as some experts predict that Christmas sales will start even earlier in the future, you'll want to consider this in your planning.
Speaking of planning a schedule, it's also recommended to prepare the sequence of emails you send. Your workflow should look something like this:
Warm up: inform your audience of the upcoming sale and what they can expect
Reminder: let them know that the sale is beginning very soon
Wake up: remind them that the sale has begun
Follow up: let them know any relevant information for a post-Christmas sale, etc.
Of course, this isn't set in stone and it all depends on your offers and your strategy. For example, you might have a "last-minute" sales email in this workflow to advertise your printable gift cards.
All in all, remember, it's never too early to start planning your Christmas campaigns, but it can be too early to start sending them out.
hines like Rudolph's nose!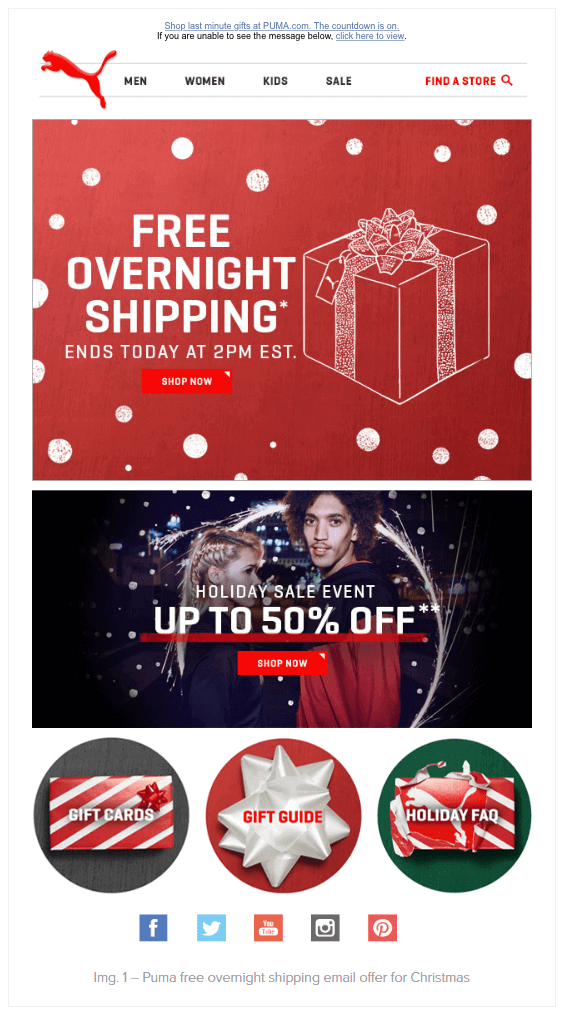 Again, don't forget that it's Christmas time! Sure, it can be a bit stressful at times at home and at work (that might be the understatement of the year), but it's supposed to be fun, too! "Fun" is the feeling that the email should give your readers. So, reach deep down inside and get that inner "dad" to make your best Christmas puns. Don't be afraid to dabble in some cheesy word-play either.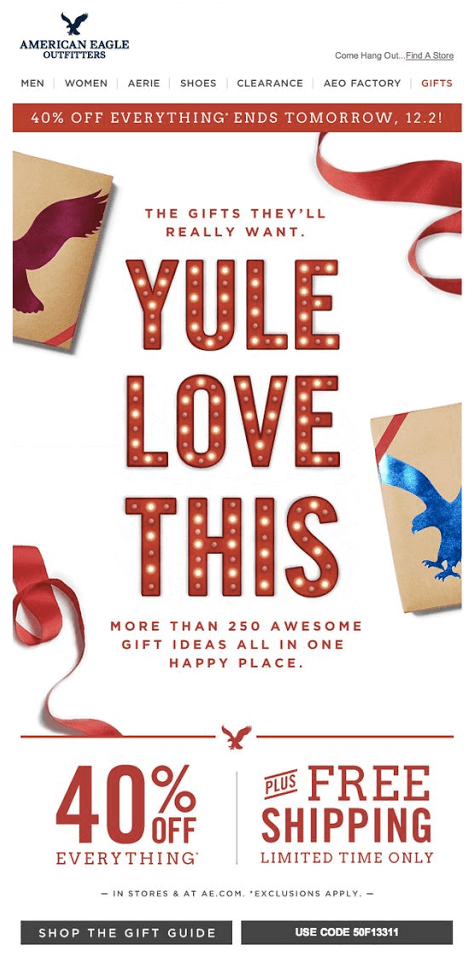 If your copy makes you both shake your head and chuckle, you're probably on the right path.
Remember that this applies for subject lines, too. Try to make them impactful and engaging enough that people will want to open the email in the first place. You might even want to A/B test a few different headlines to see which one gets the most open rates.